Christmas is coming closer… with big steps now! This can only mean one thing: It is time for more super delicious cookies like these tradtional Linzer cookies!
You may have noticed this from our last recipe: We are looking for classic and traditional cookies and here is another recipe we would really like to share with you.
After we already shared a classic German recipe for Zimtsterne, we are now heading towards Austria where the Linzer cookie originates from.
What could be better than basically a sandwich made of cookies? Exactly – nothing! Be prepared for Christmas with these delicious and pretty looking cookies.
Things to know before you start
Time Schedule
| | | |
| --- | --- | --- |
| Steps | Work time | Waiting time |
| Mix – Dough | ~15 minutes | – |
| Rest | – | 1 hour |
| Shape (4x) | ~10 minutes | – |
| Bake (4x) | – | 10-12 minutes |
| Cool | – | 30 minutes |
| Heat marmalade | ~5 minutes | – |
| Assembling | ~30 minutes | 30 minutes |
In about 3,5 to 4 hours you will have a big pile of traditional Linzer cookies.
Info: The work and waiting times for the shape and bake steps are per baking plate full of cookies. You will have dough for about 4 baking plates. So while one batch of cookies is baking in the oven, you can already prepare the next one.
Total ingredients
| | |
| --- | --- |
| Weight | Ingredient |
| 450 g | All-purpose flour |
| ~225 g | Powdered sugar |
| 8 g | Vanilla sugar |
| 2 g | Salt |
| 125 g | Finely ground hazelnuts |
| 2x | Eggs (large) |
| 200 g | Butter |
| ~150 g | Marmalade (strawberry / garnet berry / raspberry) |
We can't really tell how much Linzer cookies you will have in the end, because it totally depends on how big your cookie cutters are and how thick you will roll out the dough. But with all these ingredients you should be able to bake about 50 to 60 medium sized traditional Linzer cookies.
Info: You can pretty much take any marmalade you like or even chocolate if you want. We personally prefer a mix of the 3 berries we mentioned in the ingredient list.
Difficulty
Another simple cookie recipe.
Baking tools
You are good to go with a hand mixer, bowl, rolling pin, 2 baking plates (1 is also fine), parchment paper, cling film and of course cookie cutters. We used the classic round, star and heart shaped cookie cutters.
Check out our baking tools section to see what we are using on a daily basis while baking.
1. Mix – Dough
| | |
| --- | --- |
| Weight | Ingredient |
| 400 g | All-purpose flour |
| 200 g | Powdered sugar |
| 8 g | Vanilla sugar |
| 2 g | Salt |
| 125 g | Finely ground hazelnuts |
| 2x | Eggs (large) |
| 200 g | Butter (cold) |
Sift the all purpose flour and powdered sugar in a bowl together with the vanilla sugar, salt and finely ground hazelnuts
Stir until all the dry ingredients are combined
Add the eggs and start mixing
While mixing, add the cold butter in smaller chunks and mix until fully combined (about 5 minutes)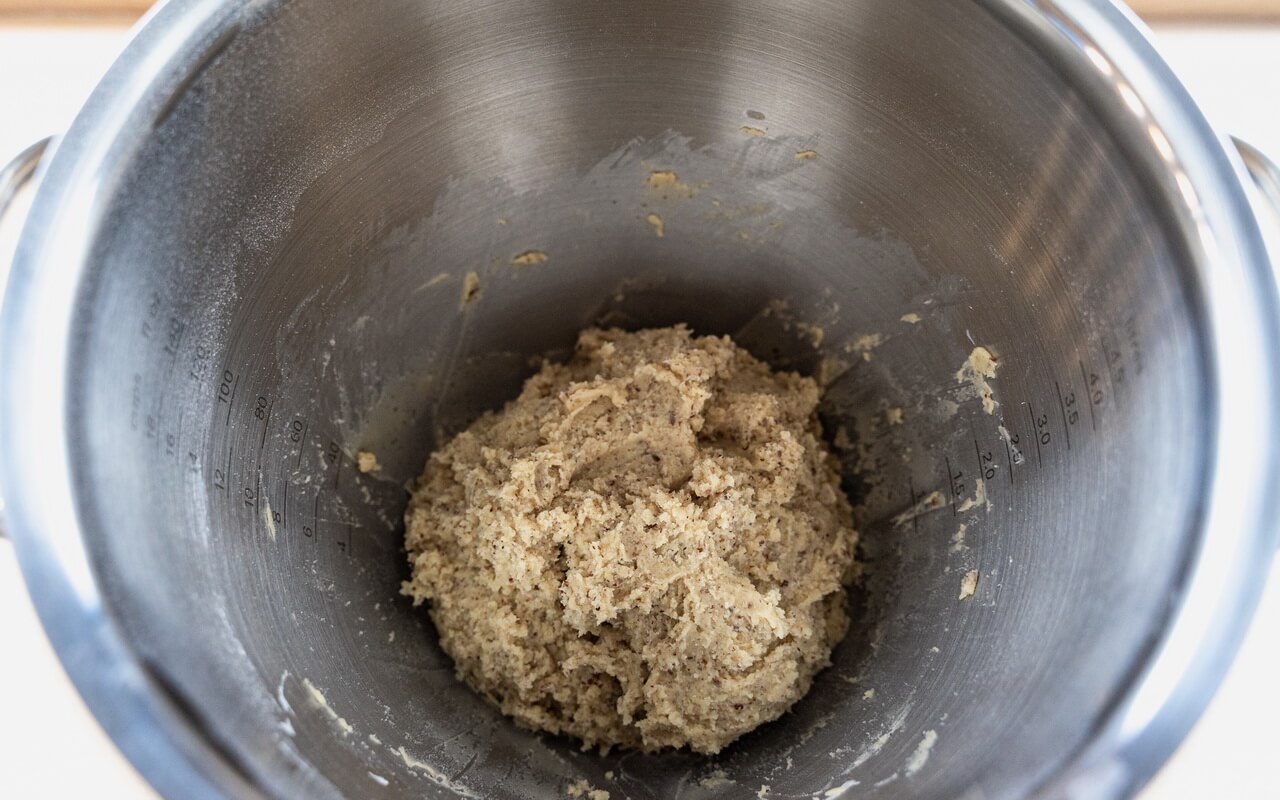 3. Shape
Take 2 baking plates and cover them with parchment paper
Take the dough out of the fridge and separate 1/4 of it
Put the rest of the dough back to the fridge while you prepare the first batch of cookies
Place it on a floured surface
Gently roll out the dough to about 0,2 cm
Use your preferred cookie cutter to cut out the cookies
Cut out a small hole in the center of 1/2 of the cut out cookies so you have one batch of cookies without a hole and one batch with a hole (later the cookie half with the hole in the center will go on top of the one without the hole)
Place the cookies on the baking plate covered with parchment paper
Form the scraps of the dough into a ball, roll it out again and cut further cookies out of the remaining dough until there is no more dough left for further cookies
Then take another 1/4 of the dough from the refrigerator and make the next batch of cookies
Tip: If the dough starts sticking to the rolling pin while rolling it out, add a little all-purpose flour on top of the dough and start rolling it out further
4. Bake
Preheat oven to 170°C (338°F) for ~20 minutes with the circulating heat function
Put the first baking plate with the cookies in the middle rack of the oven and bake for 10-12 minutes
When the margins start go get brown, the cookies are ready
After baking take them out immediately
Tip: While your first batch of traditional Linzer cookies is in the oven, you can prepare the next batch
5. Cool
Let your traditional Linzer cookies cool down for about 30 minutes on some kind of baking grid
6. Heat Marmalade
| | |
| --- | --- |
| Weight | Ingredient |
| ~150 g | Marmalade (strawberry / garnet berry / raspberry) |
You can either heat the marmalade up in the microwave or on the stove
Microwave: Fill a bowl with the marmalade, place it in the microwave, heat it up for 10 seconds, stir and check if it is warm (not hot!). Repeat the process until it is warm enough.
Stove: Fill a pot with the marmalade and heat it up until it is warm enough while constantly stirring (it should not boil!)
7. Assembling
| | |
| --- | --- |
| Weight | Ingredient |
| ~25 g | Powdered sugar |
| ~150 g | Marmalade (warm) |
Place the cookies with the hole in the middle on one side and the matching cookies without a hole on the other side
Sift the powdered sugar on top of every cookie that has a hole in the center
Place about 1/2 teaspoon of marmalade in the center of every cookie without a hole and spread it slightly
Now take the sugar-dusted cookie half, place it on top of the cookie half with the marmalade and press it down a bit
Repeat the process for alle remaining cookies
Taste
The Linzer cookies have a very balanced taste. Even though the dough contains hazelnuts, you cannot immediately tell it from the taste. They are not too heavy which gives you the opportunity to eat more than one or two cookies – we think that's quite important 😉
If you enjoy them shortly after baking, the taste is a little more buttery and the cookies are crunchier. If you have a strong will and can wait until the next day (how does that work by the way?!), the cookie gets a little softer and the marmalade in the middle firmer.
No matter which option you choose, you will have some super delicious cookies that will also make your Christmas tableprettier!