As we are entering December tomorrow, we herewith officially kick off the festive season! Be prepared for lots of lovely recipes, one sweeter and more delicious than the other. We will provide you with some real Christmas holiday feelings which we all need more than ever this year!
So let's start with our chocolate rum balls! Pretty little balls made of chocolate and with a little bit of rum to get into the festive mood 😉
As chocolate rum balls belong to truffles and are mostly made of chocolate there is no baking time involved and they are easy to prepare. You will have something pretty to place on the table for your guests or to bring along for a Christmas dinner.
Simply follow our step by step recipe and don't forget to leave a comment to let us know how you like your result!
Things to know before you start
Time Schedule
| | | |
| --- | --- | --- |
| Steps | Work time | Waiting time |
| Melt chocolate | ~10 minutes | – |
| Mix | ~10 minutes | – |
| Cool | – | 2 hours |
| Shape | ~20 minutes | – |
| Final cool | – | 1 hour |
In a bit more than 3,5 hours you will be able to bite into one of your first homemade chocolate rum balls.
Total ingredients
| | |
| --- | --- |
| Weight | Ingredient |
| 100 g | Butter |
| 100 g | Powdered sugar |
| 30 g | Rum |
| 200 g | Milk couverture chocolate |
| 100 g | Dark couverture chocolate |
| ~150 g | Chocolate sprinkles |
This recipe will yield you about 50 chocolate rum balls.
Info: If you can't or don't want to use alcohol, you can replace the rum with rum aroma.
Difficulty
Chocolate rum balls are one of the easiest truffles and therefore this recipe is simple to make.
Baking tools
Besides a hand mixer and bowl you will also need a bigger stainless steel bowl and pot for melting the chocolate.
Other than that, you can have a look at our list of baking tools that we are constantly using.
1. Melt Chocolate
| | |
| --- | --- |
| Weight | Ingredient |
| 200 g | Milk couverture chocolate |
| 100 g | Dark couverture chocolate |
Take a pot, fill it with water and heat it up
When it starts boiling, lower the heat to low / medium and place a big stainless steel bowl on top
The bottom of the bowl should touch the water
Add the milk and dark couverture chocolate and stir constantly until fully melted and creamy
Afterwards set aside to cool down a bit while you start with the next step
Tip: It is recommended to let the couverture chocolate melt slowly on low heat or otherwise it could burn to the bowl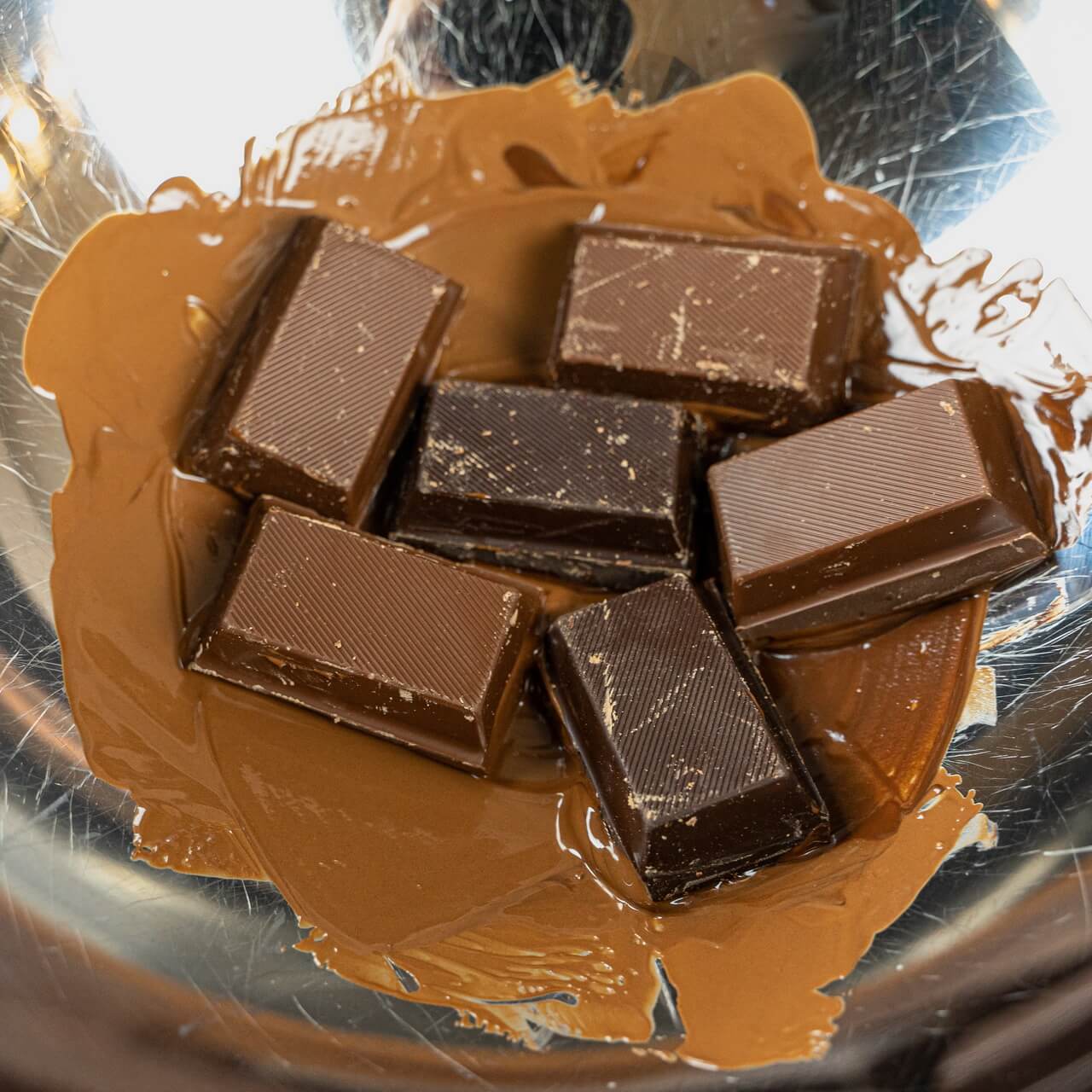 2. Mix
| | |
| --- | --- |
| Weight | Ingredient |
| 100 g | Butter (very soft) |
| 100 g | Powdered sugar |
| 300 g | Melted couverture chocolates |
| 30 g | Rum |
Mix the soft butter until creamy
Sift in the powdered sugar and mix further
Add the melted couverture chocolates and mix until fully combined
As the last step, fold in the the rum 
Tip: If you take your butter directly out of the fridge, you can cut the butter in smaller chunks into a bowl and melt in the microwave for about 30 seconds
3. Cool
Store the chocolate rum mixture in the fridge at 4-6°C (39,2-42,8°F) for at least 2 hours
4. Shape
| | |
| --- | --- |
| Weight | Ingredient |
| ~150 g | Chocolate sprinkles |
Take a small bowl, fill it with the chocolate sprinkles and set aside
Prepare a non reactive container where you can store all rum balls
Use a tablespoon to get some chocolate mixture out of the bowl (about 10 g)
Roll it with your hands into a ball
Coat it with chocolate sprinkles on all sides by rolling it around in the bowl you previously set aside
Place the chocolate sprinkled rum balls next to each other in your prepared non reactive container
5. Final Cool
Store your chocolate rum balls in the fridge for at least 1 hour to fully cool down
Taste
These little and innocent looking rum balls are a real chocolate blast!
Even though they are small, they are very filling. Due to the chocolate sprinkles they are covered in they appear a little crispy. Luckily they are small so you can eat one every now and then.
The amount of rum is up to you of course or, if you prefer a non-alcoholic version, you can use rum aroma.