This chocolate cheesecake aka Russischer Zupfkuchen is a real classic – it's like a wedding between brownies and cheesecake. What could be better?
We also entered the German name in the title and would like to explain this a bit further. The name basically contains 3 parts: "Russischer" means Russian, "Zupf" (from the German "zupfen") means to pick or to pluck and "Kuchen" is German for cake.
When you follow our recipe below, you will learn that you need to pick little balls of the chocolate dough and "throw" them into the cheesecake.
So far, so good – but what has this got to do with Russia? Is this a typical russian recipe? To be honest: No! It is actually a German recipe which was baked during a baking competition organized by the German Company Dr. Oetker. This company is famous for it's baking recipe and offers all kinds of ingredients.
Before the cake went into the oven, those little chocolate dough balls reminded of the spires of russian churches. That is when the cake got its name. Since 1993 there is even a baking mixture – of course produced by Dr. Oetker – for this cake. However, we decided we could also do it without so here is our recipe.
Things to know before you start
Time Schedule
| | | |
| --- | --- | --- |
| Steps | Work time | Waiting time |
| Mix – Chocolate dough | ~10 minutes | – |
| Rest | – | 30 minutes |
| Melt butter | ~5 minutes | – |
| Coat springform pan | ~15 minutes | – |
| Mix – Filling | ~10 minutes | – |
| Scatter chocolate dough | ~10 minutes | – |
| Bake | – | 60 minutes |
| Cool | – | 8-24 hours |
In under 11 hours you will have a delicious chocolate cheesecake aka Russischer Zupfkuchen. As this is also some kind of cheesecake you should let it cool in the fridge overnight, before you start eating it.
Total ingredients
Weight
Ingredient
300 g
All-purpose flour
250 g
White sugar
400 g
Butter
4x
Eggs
10 g
Baking powder
30 g
Cocoa powder – Unsweetened
2 packages (~16 g)
Vanilla sugar
500 g
Farmer's cheese 

(40% fat)

1 package (~37 g)
Instant vanilla pudding mix
1x
Vanilla bean
With all of these ingredients you will have a great chocolate cheesecake of about 1.800 g.
Difficulty
Simple to bake but you need to be patient during the cooling phase for a perfect result.
Baking tools
In order to get the best size for this cheesecake you will need a 26 cm springform pan. Besides that having a simple hand mixer, two bowls and a bit of cling film should be enough.
1. Mix – Chocolate Dough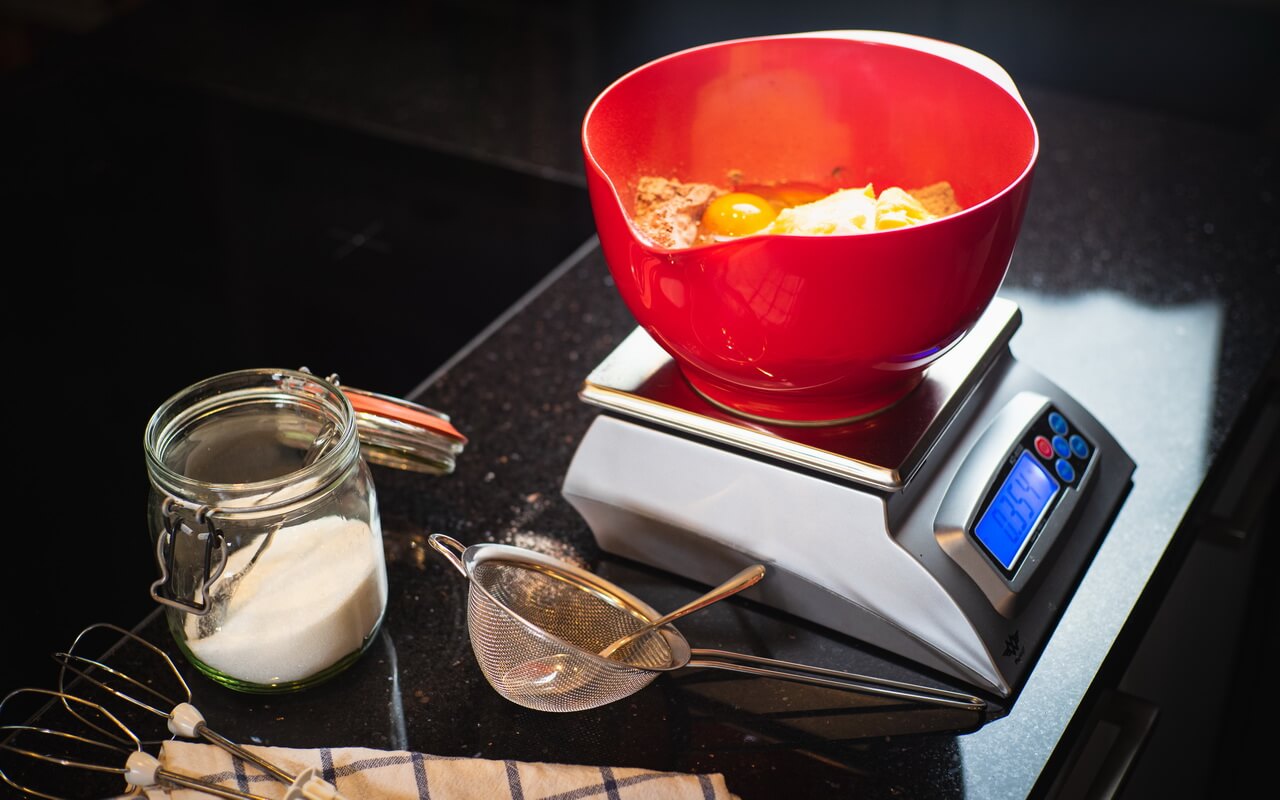 | | |
| --- | --- |
| Weight | Ingredient |
| 300 g | All-purpose flour |
| 30 g | Cocoa powder – Unsweetened |
| 10 g | Baking powder |
| 125 g | White sugar |
| 1 package (~8 g) | Vanilla sugar |
| 150 g | Butter (softened) |
| 1x | Eggs |
Start by sifting in the all-purpose flour, cocoa powder and baking powder

Mix with a hand mixer using dough hooks
Add white sugar, vanilla sugar, softened butter and egg and mix until well combined
2. Rest
Form a ball out of the chocolate dough
Wrap it in cling film
Place in the fridge for 30 minutes
4. Coat Springform Pan
Grease a 26 cm springform pan with butter on bottom and all sides
Take the chocolate dough out of the fridge and divide in half
Put one half aside and use the first one for coating the springform pan
Press the previously created dough into the bottom and up the sides of the springform pan tightly
Tip: A measuring cup can come in handy for pressing the dough down
5. Mix – Filling
Weight
Ingredient
3x
Eggs
125 g
White sugar
1 package (~8 g)
Vanilla sugar
–
Butter (melted)
500 g
Farmer's cheese 

(40% fat)

1 package (~37 g)
Instant vanilla pudding mix
1x
Vanilla bean
Mix all of the mentioned ingredients together with the hand mixer on low speed
Start by adding the vanilla sugar and eggs
Afterwards add the previously melted butter, farmer's cheese, instant vanilla pudding
Scrape the insides of the vanilla bean and also add them to the mixture
You want to have a homogenous mass so don't mix too long
As the last step, pour the whole mixture into the coated springform pan
7. Bake
Put a bowl with about 500 g water on the bottom of the oven and a baking grill in the middle
Preheat it to 165°C (329°F) for ~20 minutes with the upper and lower heat function
Add the chocolate cheesecake and bake for 60 minutes
After 60 minutes of baking turn the oven off and slightlty open the oven door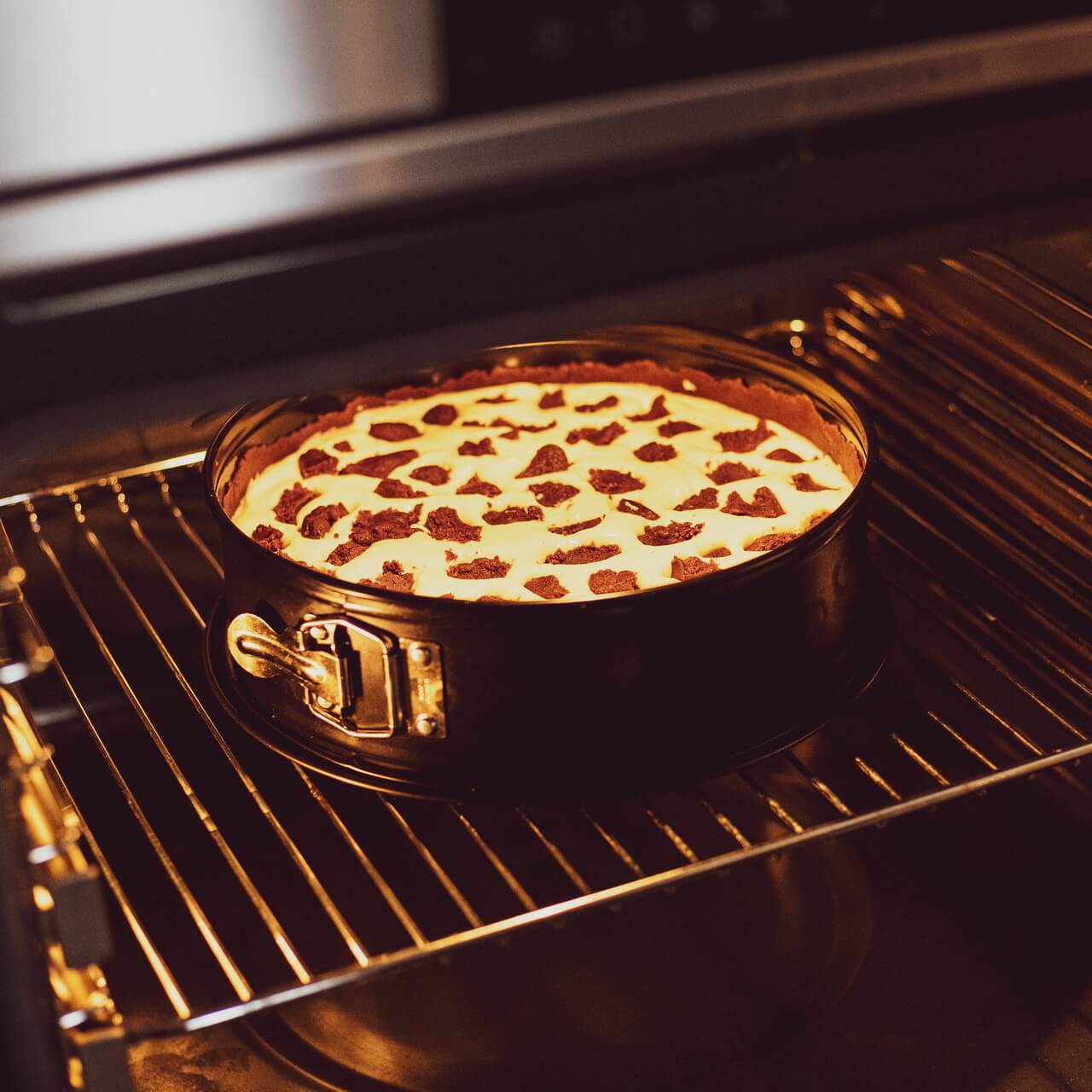 8. Cool
For a good result you want to cool down the chocolate cheesecake very slowly
As mentioned before start the cooling down process by slightly opening the oven door for 60 minutes
Afterwards place the cake on the counter for further cooling of 3 hours
As the last step, put it in the fridge and let it chill for at least 4 hours
I know it is hard but to achieve the perfect result for this chocolate cheesecake aka Russischer Zupfkuchen you should let it chill overnight
Taste
As per our introduction, this cake seems like a wedding between brownies and cheesecake. It has the slightly crunchy and fudgy base which reminds of a brownie and the creamy, soft topping which reminds of a cheesecake.
As we used real vanilla, we reduced the amount of vanilla sugar a bit. You can taste the vanilla but it is not this overwhelming vanilla taste that overshadows all other tastes.
The taste combination of cheesecake with vanilla flavour and chocolate brownies is just so delicious and saturating. You will just love this "Russischer Zupfkuchen" – and so will your friends and family.