Autumn is only a few steps away and soon enough it's time for Oktoberfest! What belongs to Oktoberfest apart from beer? Correct: All kind of pretzel products! We went for pretzel rolls this time!
We tried this recipe and were very happy with the result even though we have to admit that it is a bit time consuming to get the right look and taste. However, it is absolutely worth it! Just give it a try and you'll be convinced too!
We used a soda bath in this recipe, instead of an alkaline solution that is used traditionally for pretzel products. We went for this option, because it is not acidic and therefore less dangerous. Additionally you can get baking soda in pretty much every supermarket and the final result is still great.
Things to know before you start
Time Schedule
| | | |
| --- | --- | --- |
| Steps | Work time | Waiting time |
| Autolyse | ~5 minutes | 16 hours |
| Mix | ~20 minutes | – |
| Bulk Fermentation | ~5 minutes | 1,5 hours |
| Shape | ~10 minutes | – |
| Proof | – | 75 minutes |
| Score | ~5 minutes | – |
| Baking soda bath | ~10 minutes | |
| Bake | ~5 minutes | 15 minutes |
| Cool | – | 10-15 minutes |
These pretzel rolls are ready in about 20 hours.
Total ingredients
You will have a dough of about 592,7 g in total suitable for 6 pretzel rolls. The baking soda and 1.000 g of water are used for the baking soda bath.
If you want, you can easily double the amount of ingredients to make more pretzel rolls in one go.
Difficulty
An advanced recipe as we are going to do a baking soda bath, that is crucial for pretzel baking goods.
Baking tools
Nothing really special is needed if you have already baked some rolls or bread, but you can have a look in our should have baking tools overview for some baking helpers.
1. Autolyse
| | |
| --- | --- |
| Weight | Ingredient |
| 20 g | Water – Lukewarm |
| 0,35 g | Yeast – Fresh |
| 0,35 g | Salt |
| 35 g | All-purpose flour |
Mix all ingredients thoroughly together
I used water straight from the tap
Store sealed for 16 hours at 8-10°C (46,4-50°F)
2. Mix
Weight
Ingredient
–
Autolyse
335 g
All-purpose flour
10 g
Sourdough starter

 – Preferably from 

rye flour
7 g
Salt
3 g
Yeast – Fresh
7 g
Honey
35 g
Milk – 3,5% fat – 5°C (41°F)
130 g
Water – 15°C (59°F)
10 g
Butter – Softened
Mix all of the mentioned ingredients except the butter together in a stand mixer for 5 minutes on speed level one and 8 minutes on speed level two
Add the butter after 7 minutes of mixing
The dough should be elastic and smooth
3. Bulk Fermentation
Cover the dough and let it rest for a total of 1,5 hours at 20-22°C (68-71,6°F)
4. Shape
Place the dough on a floured surface
Divide it into 6 even pieces of about 98 g each
Get each dough piece in shape by rounding it

You can check this short video from us on how this is done from our 

Sunday morning breakfast rolls recipe:
5. Proof
Place your dough rolls on a baking plate layed out with parchment paper
Cover them with a clean kitchen towel and let them proof for 1 hour at 20-22°C (68-71,6°F)
Afterwards remove the kitchen towel and let them proof further in the fridge for 15 minutes in order to get a dry surface
6. Score
Take the baking plate with the dough rolls out of the fridge
With a bread lame cut a cross (about 1,5 cm deep) on top of each one
7. Baking Soda Bath
Fill a pot with 1.000 g water and 20 g baking soda
Bring the water to a boil and lower it to medium heat so it is just boiling a bit
Put one dough ball after the other in it and let it boil for 45 seconds each
Take it out of the water, drip dry a bit and place back on the baking plate
Optionally, you can sprinkle them with a bit of coarse sea salt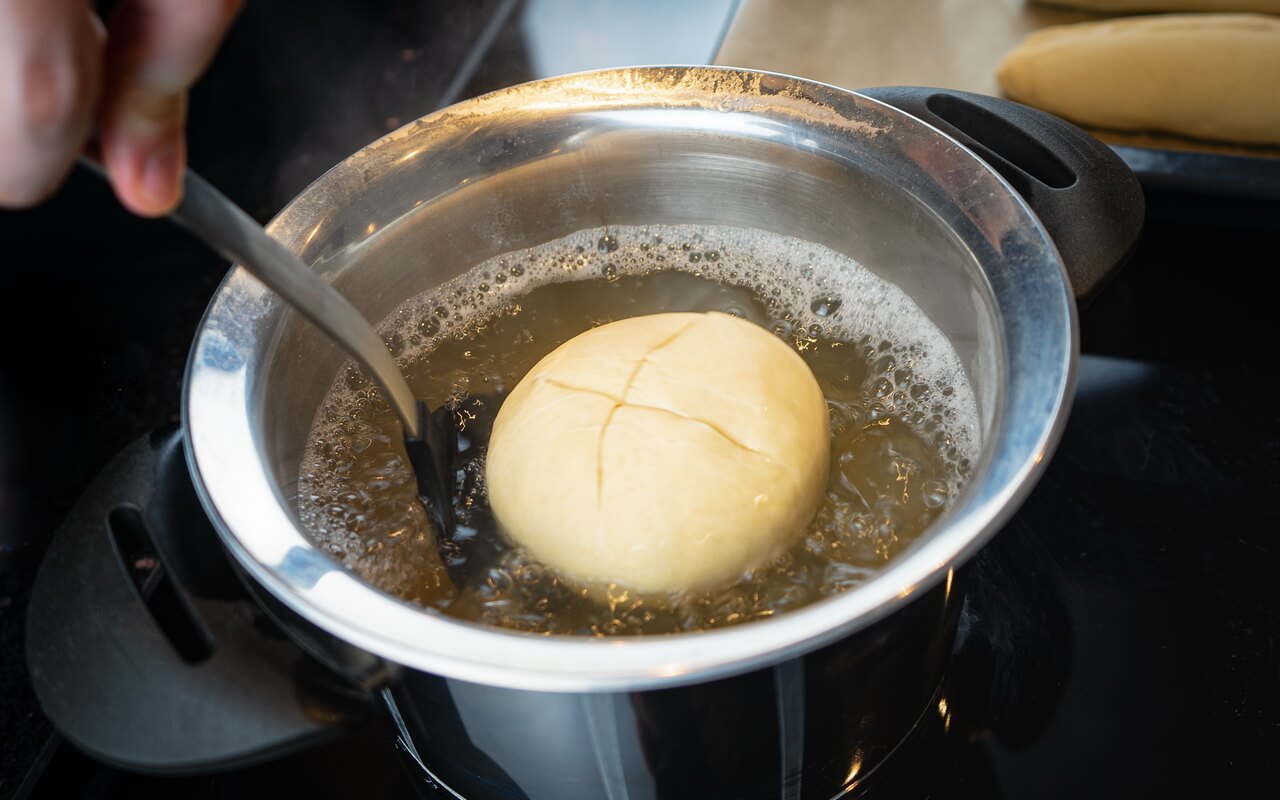 8. Bake
Preheat oven to 230°C (446°F) for ~35 minutes with the upper and lower heat function
Put the rolls in the oven

 

and bake for 15 minutes (don't create any steam)
During the whole baking time the oven door should be opened just a gap wide (we put the end of a small wooden spoon between the oven and the oven door to keep it open)
After baking take your pretzel rolls out immediately
9. Cool
Let your pretzel rolls cool for 10 to 15 minutes on some kind of grid
Crust
The crust has the typical brown color of pretzel products and is quite soft with a light salty taste.
Crumb
The crumb is bright and nicely soft. The pores are very fine and even. All in all, the crumb is very soft but not rubbery.
Taste
Due to the baking soda we used, the pretzel rolls are slightly salty. Apart from that, they have the typical taste of pretzel rolls and that is just sooo good!
Goes good with
The typical 'Oktoberfest' stuff, meaning: Munich Weisswurst and mustard! They also can be eaten with just a bit of butter or you use them as breakfast rolls and combine them with a good ham and boiled eggs.