If you are already following our journey for a while you may know this by now… if you are new to Delight Baking we will herewith inform you: We LOVE cookies! Therefore it was time for these chewy chocolate chip cookies bars.
Now, who said that cookies need to be round and baked as single round dough balls? Exactly: No one!
We already made some lemon bars and really liked the format. So why not do the same with everyone's darling: the chocolate chip cookie!
There is no need for the portioning before baking and they are easier to transport if you would like to bring them along to a party as a dessert.
Things to know before you start
Time Schedule
| | | |
| --- | --- | --- |
| Steps | Work time | Waiting time |
| Prepare baking pan | ~5 minutes | – |
| Mix – Dough | ~20 minutes | – |
| Bake | – | 30-35 minutes |
| Cool | – | 1 hour |
| Cut | ~5 minutes | – |
In 2 hours you will have a baking pan full of chewy chocolate chip cookie bars.
Total ingredients
Weight
Ingredient
170 g

Butter

200 g
Brown sugar
50 g
White sugar
2x

Eggs (large)

8 g

Vanilla extract

280 g
All-purpose flour
3 g
Baking powder
4 g
Corn starch
3 g
Salt
200 g
Dark 

couverture chocolate

~2 g
Sea salt (optional)
Depending on how big you are going to cut you will have 16 or 20 chewy chocolate chip cookie bars.
Info: Of course you can also use chocolate chips, milk chocolate or white chocolate instead of dark couverture chocolate. Or even mix different types of chocolat together.
Difficulty
You won't really find a more simple recipe than this one with just five steps.
. Mix – Dough
| | |
| --- | --- |
| Weight | Ingredient |
| 170 g | Butter (melted) |
| 200 g | Brown sugar |
| 50 g | White sugar |
| 2x | Eggs (large) |
| 8 g | Vanilla extract |
We used a hand mixer to mix the dough, but you can also use a stand mixer
Melt the butter and let it slightly cool down
Beat together the melted butter with the brown and white sugar in a large bowl for 2 minutes or until fluffy
Whisk in one whole egg and only use the egg yolk of the second one
Afterwards, add the vanilla extract and mix until combined
The mixture will be pretty thick
Sift all the dry ingredients together in a second bowl and stir until combined
Carefully add them to the previous dough step by step while mixing further on low speed until just combined to avoid overmixing
The dough should be very soft but still thick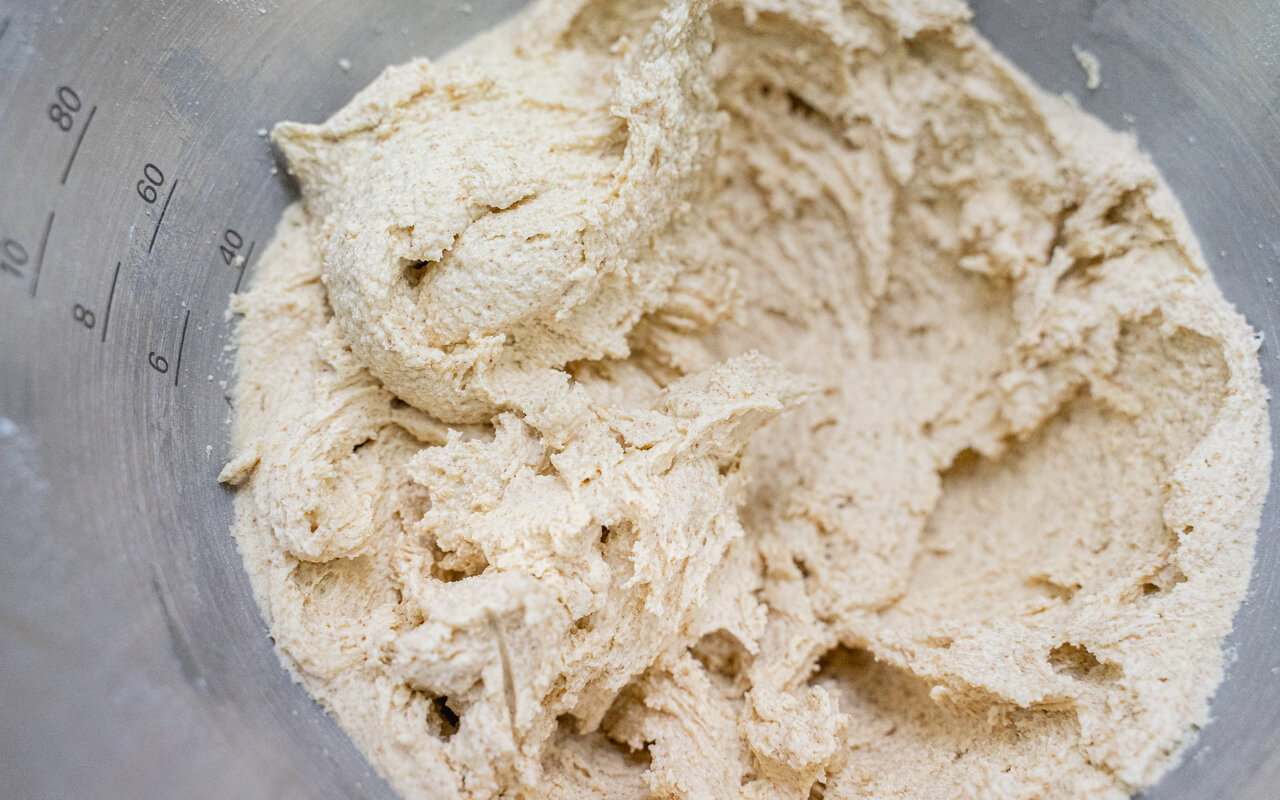 | | |
| --- | --- |
| Weight | Ingredient |
| 200 g | Dark couverture chocolate |
| ~2 g | Sea salt (optional) |
Chop the couverture chocolate in chunks
Fold the chocolate into the dough with a big spoon
Press the dough firmly into the prepared baking pan and make sure that everything is even
Sprinkle some sea salt on top
3. Bake
Preheat oven to 175°C (347°F) for ~20 minutes with the upper and lower heat function
Put the baking pan in the oven on the middle rack and bake for 30 to 35 minutes or until lightly browned on the sides
After baking take your finished chewy chocolate chip cookie bars out, but keep them in the baking pan
Tip

: Check if the cookie bars are finished baking by sticking a skewer in the middle until you reach the bottom and pull it out again. If it comes out clean, the cookie bars are done. If not, bake for 5 more minutes and check again.
4. Cool
Let the chewy chocolate chip cookie bars cool in the baking pan on a wire rack for about 1 hour
5. Portion
Lift the cookie bars out of the pan by using the overhang of the parchment paper on the sides
Cut into even squares by making 3 horizontal and 3 vertical cuts to have 16 cookie bars or go for 4 cuts to have 20 slightly smaller ones
Taste
Most people really love chocolate chip cookies and this is due to the perfect match of dough and chocolate drops.
Dough and chocolate are melting during the baking process while the dough also gets a little firm on the outside (but still soft).
Thanks to baking these cookie bars in a little baking pan, they have a nice and crunchy crust. We love the mix of softly melting and crunch which is just perfectly covered in these bars.
To add another level of contrast to these bars, adding some sea salt is just the peak of delight. With this little extra the taste gets its final touch.