Looking for an easy recipe for the next gaming night with friends? We can recommend these wheat tortillas for fajitas!
They are easy to prepare and the only thing that really takes a little time is rolling them out. The baking is also super easy plus you can perfectly prepare all the toppings before your guests arrive. We made these for New Years Eve too and it was so much fun to do all the preparation.
This recipe gives you a great base for a sociable meal where everyone eats what they prefer but you all eat at the same time.
Things to know before you start
Time Schedule
| | | |
| --- | --- | --- |
| Steps | Work time | Waiting time |
| Mix | ~10 minutes | – |
| Pre-shape, Rest | ~5 minutes | 15 minutes |
| Shape | ~25 minutes | – |
| Bake | ~25 minutes | – |
| Serve | ~5 | – |
In just under 1,5 hours you will have all your wheat tortillas ready to be used for some delicious fajitas.
The time for the shaping and baking steps is for all tortillas. Shaping a single one takes about 60 to 90 seconds and the same goes for the baking of each one.
Total ingredients
| | |
| --- | --- |
| Weight | Ingredient |
| 450 g | All-purpose flour |
| 10 g | Salt |
| 6 g | Baking powder |
| 220 g | Water |
| 60 g | Olive oil |
All these ingredients will yield
16 wheat tortillas
. You can easily double or triple the ingredients, if you want to make more.
Difficulty
A very simple recipe for super quick and easy to make tortillas.
1. Mix
| | |
| --- | --- |
| Weight | Ingredient |
| 450 g | All-purpose flour |
| 10 g | Salt |
| 6 g | Baking powder |
| 220 g | Water – 20°C (68°F) |
| 60 g | Olive oil |
Mix together all-purpose flour, salt and baking powder
Add oil and water while the stand mixer is running at medium speed
When mixture comes together and begins to form a ball, decrease mixing speed to low
Continue to mix for 1 more minute or until the dough is smooth
2. Pre-shape, Rest
Transfer dough to a lightly floured work surface
Roll the dough into a medium thick strand
Cover it with a clean towel and let it rest for 15 minutes
3. Shape
Divide the dough into 16 equal pieces and roll each one into a small ball
Cover them with a clean towel so they don't dry out while shaping one after the other into a tortilla
Flour the surface a bit
Roll the dough out to a rough circle of about 15 to 18 cm as thin as you can
Now put the shaped dough aside
Repeat the process for the other 15 dough pieces
Tip: If the dough starts sticking to the surface or rolling pin while rolling it out, add a little flour on top of the dough, flip it on the other side, add again a little flour on top and start rolling it out further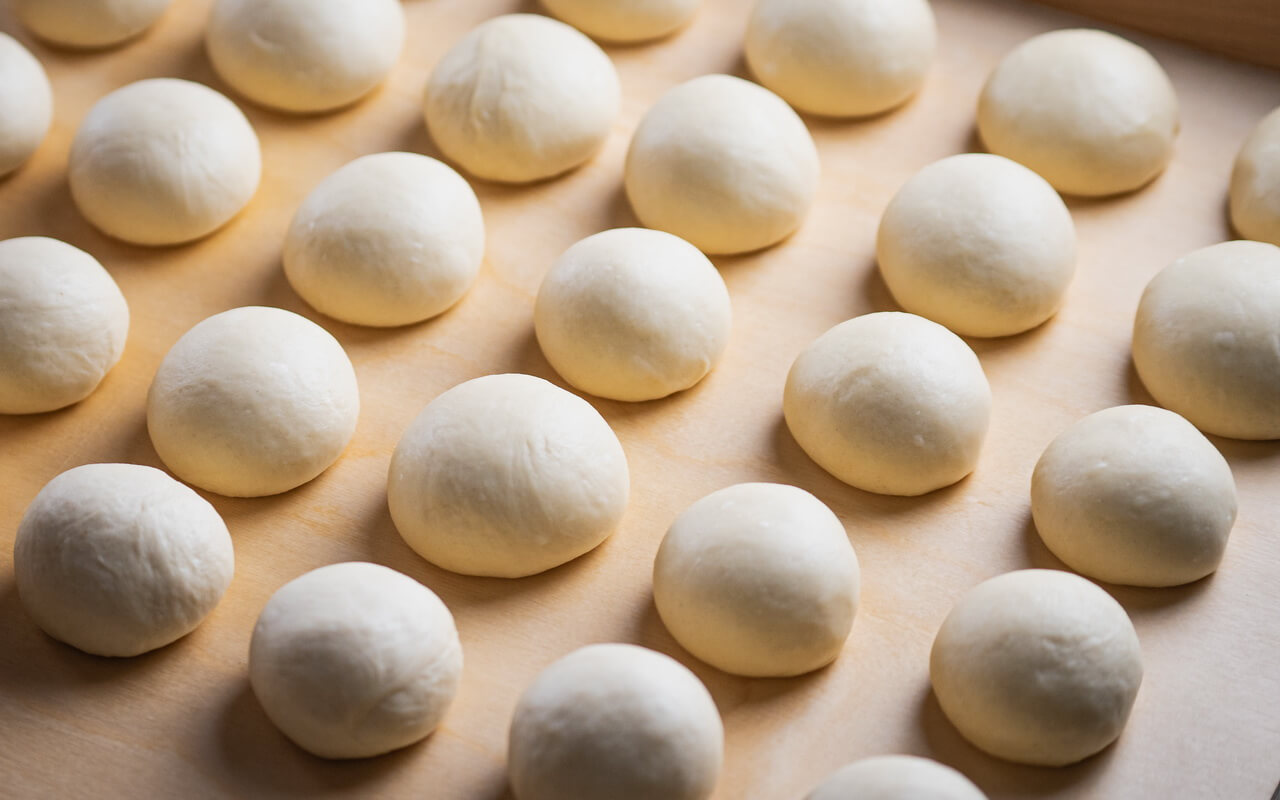 4. Bake
Preheat a non-stick pan on medium heat until hot without any oil or butter in it
Place one dough circle into the pan and allow to cook for about 1 minute or until the bottom surface has a few pale brown spots and the uncooked surface is bubbly
Flip to other side and cook for 20-30 seconds
The tortillas should be nice and soft but have a few small brown spots on the surface
Remove from pan with tongs and stack in a covered container to keep the tortillas soft
Serve warm or allow to cool for later use
5. Serve
Place one tortilla on a plate
Place every ingredient you want on it
Roll to a fajita and enjoy 🙂
Tip: If your tortillas got too cold, you can microwave them for about 30 seconds and then start building them to fajitas again
Taste
The taste of these wheat tortillas is as you may already know it from wraps or other fajitas. You can clearly taste the wheat and a nice saltyness. The soft but stable consistency allows you to build whatever fajita you like. It is firm so your toppings don't get lost somewhere on your plate but it is soft enough to soak up the dips or sauces you may use.
Goes Good With
What to fill your fajitas with? Take a look at our gallery to get some ideas but it is entirely up to you!
For example we went for a fajita with salsa, ground beef, lettuce, paprika and cheese on top. Another fajita was filled with sour cream, chicken, hard boiled eggs, mushrooms and of course again some cheese 😉