Who doesn't love a good ciabatta bread? It reminds you of summer, Italy and holidays right away.
A sunny day, a slight and warm wind, great atmosphere and a huge table you share with dear people. Some nice olives, a good oil, salt and pepper, some fresh tomatoes and – yes of course, your very own ciabatta. That's all you need.
As we love ciabatta and know it's not that easy to make, we would like to share this recipe for a quick and easy ciabatta bread with you. Normally, a ciabatta has a hydration of at least 80% and the autolyse step needs 12 to 24 hours.
With our recipe however, hydration is at around 70% which makes the handling of the dough easier. To shorten the autolyse phase, we used more yeast than you normally expect in a classic ciabatta recipe.
Even though we were a little sceptical in the beginning, we can assure you that this ciabatta does not lose any of its taste due to using more yeast.
Take a look at our gallery and let the images speak for themselves! When looking at the gallery, also focus on the shape of the bread. Does this remind you of something? A slipper maybe? That's what Ciabatta means in Italian!
We would love to hear your feedback after trying the recipe and how you liked the bread.
Things to know before you start
Time Schedule
| | | |
| --- | --- | --- |
| Steps | Work time | Waiting time |
| Autolyse | ~10 minutes | 1 hour |
| Mix | ~15 minutes | – |
| Bulk Fermentation | – | 1,5 hours |
| Shape, Proof | ~10 minutes | 45 minutes |
| Bake | ~5 minutes | 25-30 minutes |
| Cool | – | 30 minutes |
2 great ciabatta breads will be ready in under 5 hours.
Total ingredients
| | |
| --- | --- |
| Weight | Ingredient |
| 500 g | All-purpose flour |
| 12 g | Salt |
| 4 g | Sugar |
| 21 g | Yeast – Fresh |
| 350 g | Water |
| 40 g | Olive oil |
| 0,5-1 g | Dried basil (optional) |
| 0,5-1 g | Dried oregano (optional) |
You will have a dough of about 927 g in total that will yield two ciabatta loaves.
The dried basil and oregano is optional. You can leave them out or use other mediterranean herbs. We went for these two as we planted some ourselves this year.
Difficulty
As mentioned in the introduction this is a simple recipe for ciabatta bread. Additionally you don't have to do any stretch and folds and it is ready in just a couple of hours.
1. Autolyse
| | |
| --- | --- |
| Weight | Ingredient |
| 500 g | All-purpose flour |
| 350 g | Water – 20-22°C (68-71,6°F) |
| 21 g | Yeast – Fresh |
Mix the ingredients above together with a sturdy spoon in a big bowl that you plan to use for the main mix step or already with your stand mixer
Make sure that your dough doesn't contain any flour lumps
Cover with a clean kitchen towel and store for 1 hour at 20-22°C (68-71,6°F)
2. Mix
| | |
| --- | --- |
| Weight | Ingredient |
| – | Autolyse |
| 12 g | Salt |
| 4 g | Sugar |
| 0,5-1 g | Dried basil (optional) |
| 0,5-1 g | Dried oregano (optional) |
| 40 g | Olive oil |
Except the olive oil mix all of the mentioned ingredients together in a stand mixer for 2 minutes on speed level one and 5 minutes on speed level two
Add the olive oil after 2 minutes of mixing over the course of 3 minutes
The dough shouldn't stick too much to the bowl at the end of the mixing
3. Bulk Fermentation
Cover the dough and let it rest for a total of 1,5 hours at 20-22°C (68-71,6°F)
4. Shape, Proof
Take the dough out on a well floured surface and divide it into 2 even pieces of about 450 g each
Flour your hands and very gently shape each dough piece in the shape of a "slipper"
Take each dough and place it next to each other with some space between on parchment paper
Pick the parchment paper between the dough pieces to create a separator so they don't touch while proofing
Add a bit flour on top of the loaves and cover with a towel
Let them proof for 45 minutes at 20-22°C (68-71,6°F)
5. Bake
Preheat oven to 240°C (464°F) for ~45 minutes with the upper and lower heat function
Transfer the ciabatta loaves together with the parchmnet paper on a pizza peel
Put them in the oven, create steam, lower the temperature immediately to 220°C (428°F) and bake for 25-30 minutes or until golden brown
After 10 minutes let the steam out by opening the oven door for ~45 seconds and close it again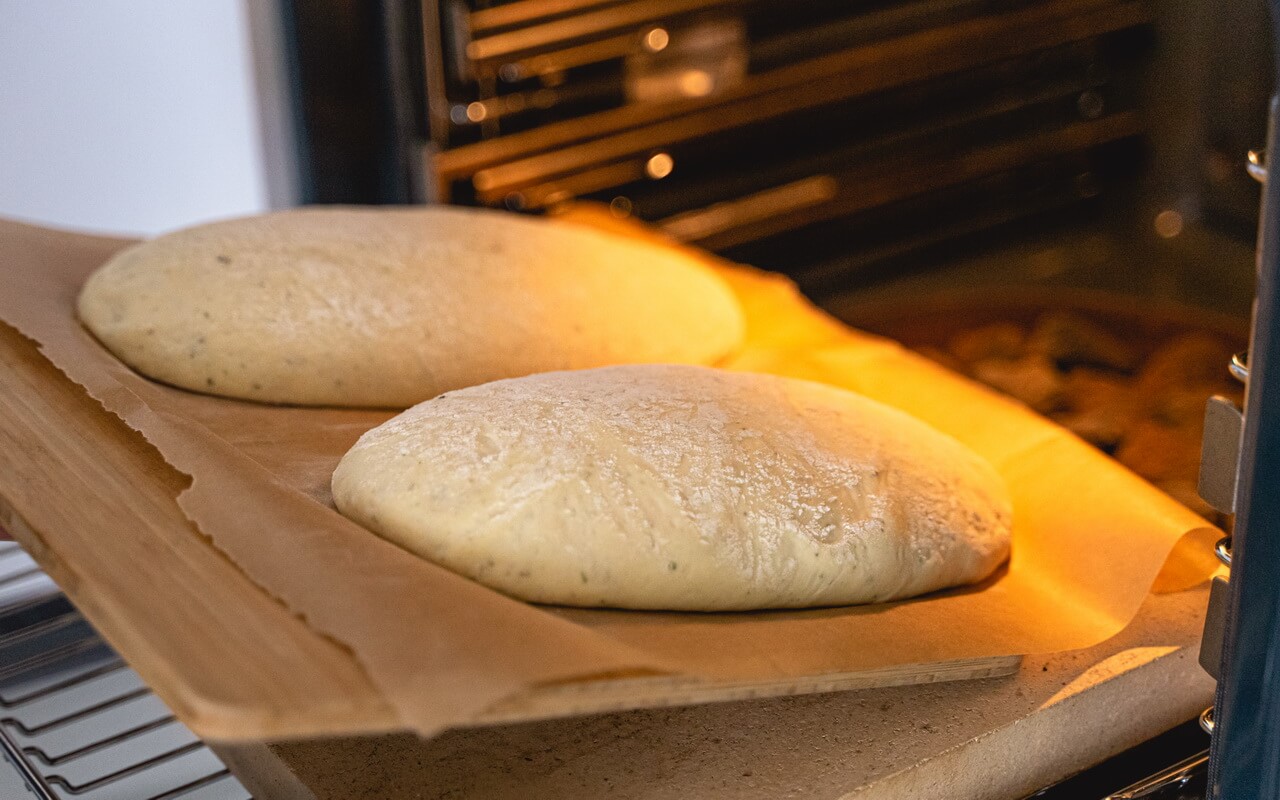 6. Cool
Let your ciabatta breads cool for 30 minutes on some kind of grid
Crust
A firm and soft crust.
Crumb
The crumb is super soft, it has small and compact pores.
Taste
As already mentioned in the introduction, the taste of this bread is just linked to summer feelings for us. It has a soft, slightly salty and pleasant taste.
The added basil and oregano in the dough gives it also a nice mediterranean touch.
Goes good with
Classically you can enjoy your ciabatta with olive oil and a little salt or combine it to tomato and mozzarella. Apart from that, you can enjoy it with whatever fits best for you – for example with a good creamy cheese or just a bit of butter.