As you know, we are always looking for ways to make use of the leftovers from sourdough starters. It's far too valuable to be thrown away and therefore we are going to present you a recipe for sourdough waffles.
Step by step we will collect additional recipes for this purpose.
This time, we had some rye and whole wheat flour starter left and thought about how we could use it. Then it crossed our minds: We haven't had waffles for quite some time! So why not trying out a recipe for waffles including sourdough starter?
So here it is: Our leftover sourdough waffles recipe including rye and whole wheat flour sourdough starter.
Things to know before you start
Time Schedule
| | | |
| --- | --- | --- |
| Steps | Work time | Waiting time |
| Levain | ~5 minutes | 10 hours |
| Mix | ~15 minutes | – |
| Bake | ~30 minutes | – |
| Serve | ~5 minutes | – |
In just about 11 hours you will be able to enjoy these tasty sourdough waffles.
Total ingredients
Depending on the size of your waffle iron you will be able to bake about 8 to 12 sourdough waffles.
Difficulty
Super simple recipe to use up your leftover sourdough starter with just four steps.
Baking tools
Obviously you will need a waffle iron in order to be able and bake them, but besides that a hand mixer and a bowl are enough.
1. LEVAIN
| | |
| --- | --- |
| Weight | Ingredient |
| 150 g | Starter – Preferably from whole wheat and rye flour |
| 200 g | All-purpose flour |
| 200 g | Water – Room temperature |
Mix your sourdough starter with the ingredients above
Store sealed for 10 hours at 20-22°C (68-71,6°F)
2. Mix
| | |
| --- | --- |
| Weight | Ingredient |
| 100 g | White sugar |
| 2x | Eggs |
| 100 g | Butter |
| 200 g | All-purpose flour |
| 5 g | Salt |
| 3 g | Baking powder |
| 200 g | Milk – 3,5% Fat |
| – | Levain |
Mix all of the mentioned ingredients together with a hand mixer
Start with the sugar and eggs until creamy
Then add the softened butter and mix further
Afterwards add all other ingredients until fully combined
Tip: If you take your butter directly out of the fridge, you can cut the butter in smaller chunks into a bowl and melt in the microwave for about 30 seconds
3. Bake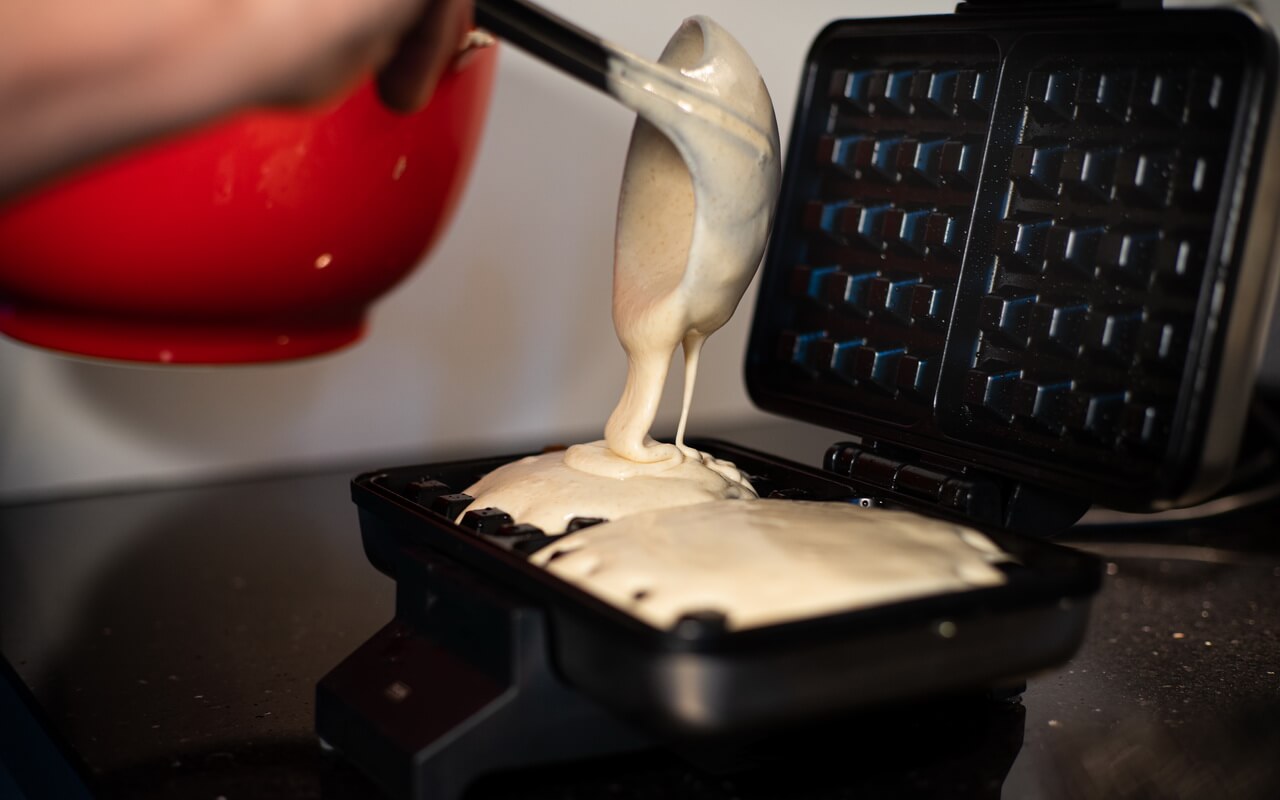 Follow the instructions of your waffle iron and bake waffles until all dough is used up
If you don't have the instructions anymore, the following steps should work:
Open the waffle iron
Spread a bit canola or sunflower oil on the irons
Close them and heat up until fully heated
Open the waffle iron again
Use a trowel for pouring the dough on the heated irons
Close them and bake until golden brown
Every waffle iron is different so you will have to try out different temperatures and timings to get the best results
4. Serve
Put the finished sourdough waffles on a plate, with your favourite toppings and eat while they are still warm
Taste
We used rye and whole wheat flour starter, therefore the waffles have their own unique taste and you can clearly tell there is rye flour in it.
This unique taste somehow reminds of Leibniz digestive biscuits. As they are not as sweet as "usual" waffles, you can also combine them with a bit more hearty things such as spread cheese with a little bit of marmalade.
We would not recommend to use maple syrup as it's taste is just too strong for these unique sourdough waffles – it would be too much. Better stick to the lighter and more sweet things.